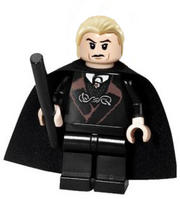 Yaxley
is a minifigure from the LEGO Harry Potter theme. He is a Death Eater working for Voldemort. He only appears in the set
6252 Malfoy Manor
. He has the same hairpiece as Draco Malfoy and the same body and head as Lucious Malfoy. Even though he was in the Infiltration at the Ministry scene, he is not included as a minifigure.
Ad blocker interference detected!
Wikia is a free-to-use site that makes money from advertising. We have a modified experience for viewers using ad blockers

Wikia is not accessible if you've made further modifications. Remove the custom ad blocker rule(s) and the page will load as expected.