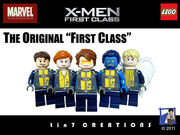 Minifigures
Edit
Charles Xavier's hair is like Dastan from Prince of Persia. He has a head with smiley mouth. The uniform is yellow with two lines on the front. In the middle is it marked an 'X'. On the back it is just black. The legs is black.
Erik Lehnsherr has the same uniform as Charles. The head and hair is the same like the new Han Solo.
Logan/Wolverine comes with a black hair. The head has a angry mouth and sideburns. The arms is flesh colored and the torso is like the one Indiana Jones have in the Temple of Doom set. The legs is brown with some belt details.
Ad blocker interference detected!
Wikia is a free-to-use site that makes money from advertising. We have a modified experience for viewers using ad blockers

Wikia is not accessible if you've made further modifications. Remove the custom ad blocker rule(s) and the page will load as expected.