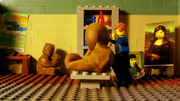 The Artist (Deutsch: Der Künstler) is a Brickfilm by Mirko Horstmann. It is the winner of the third German Brickfilmfestival named Steinerei on May 19, 2007.
This film is about the artist August R. "finding" a big lump of clay and trying to create "art" of it in his studio. He spends hours of work creating his first clay-art and then went to art gallery to present it to the director, but this man does not share his view of art. So August had to go back and try again...
The film has "dialogs" but no spoken words. It mainly works with the music or sound to tell the storyline. There are some little jokes in the film like a poster of the first and the second Brickfilmfestival Steinerei in Germany. And a famous artwork in the background of another well known artist.
These film can be found at following link: The Artist de:Der Künstler (Brickfilm)
Ad blocker interference detected!
Wikia is a free-to-use site that makes money from advertising. We have a modified experience for viewers using ad blockers

Wikia is not accessible if you've made further modifications. Remove the custom ad blocker rule(s) and the page will load as expected.