De Bouwsteen (Build Stone) is a Dutch LEGO fan group.
Minifigure
Edit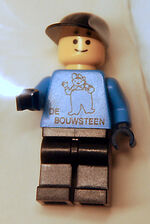 This Minifig was handed out by the Bouwsteen for its members for Legoworld 2005 in the Netherlands. Limited, only 1000 made. Comes with testimony. Produced with special permission from the Lego group. The fig has a Lego logo on his back.
Ad blocker interference detected!
Wikia is a free-to-use site that makes money from advertising. We have a modified experience for viewers using ad blockers

Wikia is not accessible if you've made further modifications. Remove the custom ad blocker rule(s) and the page will load as expected.