8962 The Avengers

Pieces

847

Price

79.00$

Minifigures

Iron Man, Thor, Loki, Alien Soldier, Alien Pilot
8962 The Avengers
is a set that will be released in summer 2012 from
The Avengers
line, and is the main set for the theme. It contains 847 pieces and includes 5 minifigures.
The set is a spaceship driven by the Aliens including this set, Iron Man's armor holder, and a part of "The Stark Tower".
Armor Holder
Edit
The armor holder is seven cranes, where the crane on the top, in the middle, can carry Iron Man's helmet on and off.
The Alien Spaceship
Edit
The alien spaceship is maybe the part in the set that includes most pieces.
You can open it's cockpit, fire the flickmissiles and take out the craft!
Stark TowerEdit
The Stark Tower is where you can put in the Armor Holder. This is also a big part of the set.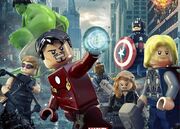 Ad blocker interference detected!
Wikia is a free-to-use site that makes money from advertising. We have a modified experience for viewers using ad blockers

Wikia is not accessible if you've made further modifications. Remove the custom ad blocker rule(s) and the page will load as expected.