8960 Helicarrier

Pieces

1179

Price

109.99$

Minifigures

Iron Man, Captain America, Thor, Hulk, Nick Fury, Loki, Phil Coulson
8960
Helicarrier
is a set from
The Avengers
line realesed summer 2012.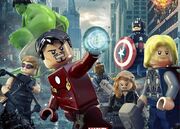 The set is giant, and includes 7 minifigures.
The Helicarrier is a giant ship seen in The Avengers movie.
You can open the big roof, open the backdoor, open Loki's prison door, let the prison out!'
Ad blocker interference detected!
Wikia is a free-to-use site that makes money from advertising. We have a modified experience for viewers using ad blockers

Wikia is not accessible if you've made further modifications. Remove the custom ad blocker rule(s) and the page will load as expected.